https://hop.clickbank.net/?affiliate=fostjone&vendor=thoughtop&tid=https://81c0913f0cvduo9eowvkj73t2m.hop.clickbank.net
https://hop.clickbank.net/?affiliate=fostjone&vendor=thoughtop&tid=https://81c0913f0cvduo9eowvkj73t2m.hop.clickbank.net
Federal prosecutors are seeking a two-jury trial in the latest twist involving the 2002 murder case of Jam Master Jay.
The motion, submitted recently by the government, aims to streamline the proceedings against the three defendants: Karl Jordan, Jr., Ronald Washington, and Jay Bryant.
On the evening of October 30, 2002, Jam Master Jay was at his recording studio in Hollis, Queens, New York. At about 7:30 p.m., the trio—Washington, Jordan, and Bryant — allegedly made their way into the studio. 
The Feds claim a terrifying sequence followed where Washington brandished a firearm, making one of the individuals inside lay down on the floor. Mizell, caught in the grim scenario, found himself face to face with Jordan, who supposedly shot him at close range, resulting in his untimely death. 
Another individual, Uriel "Tony" Rincon, was injured in the incident. After the fatal shots, all three culprits fled the scene. 
A crucial piece of evidence left behind, an article of clothing, connected Bryant to the crime through DNA traces. Although Bryant later bragged about being the trigger man, the Feds claim contradictions arose in his claims. 
Witnesses in the studio have consistently identified Washington and Jordan as the shooters. And both Washington and Jordan allegedly spoke to other people, hinting at their involvement in Mizell's murder.
May 30, 2023, marked a pivotal point when the grand jury added Bryant as a defendant in the murder counts of Mizell in a second superseding indictment. Fast forward to October 13, 2023, and the Court granted Bryant's motion for severance from his co-defendants, Jordan and Washington. 
The reason? A concerning revelation—Bryant had admitted to a "potential neutral third-party witness" that he was, in fact, the one who pulled the trigger. 
In both trials, the government anticipates eliciting from the Third-Party Witness Bryant's complete statement, which acknowledges his participation in the murder but exaggerates his role. 
One key concern revolves around the testimony from this Third-Party Witness. They are set to testify that Bryant confessed to being a part of the murder, painting himself as the shooter during an ill-fated robbery.
"It is also likely that Jordan and Washington will seek to call the Third-Party Witness to buttress or supplement their defense strategies. Given these eventualities, a joint trial with two juries would provide the Court with maximum flexibility in dealing with any prejudice or jury confusion that could potentially arise," argued United States Attorney Breon Peace.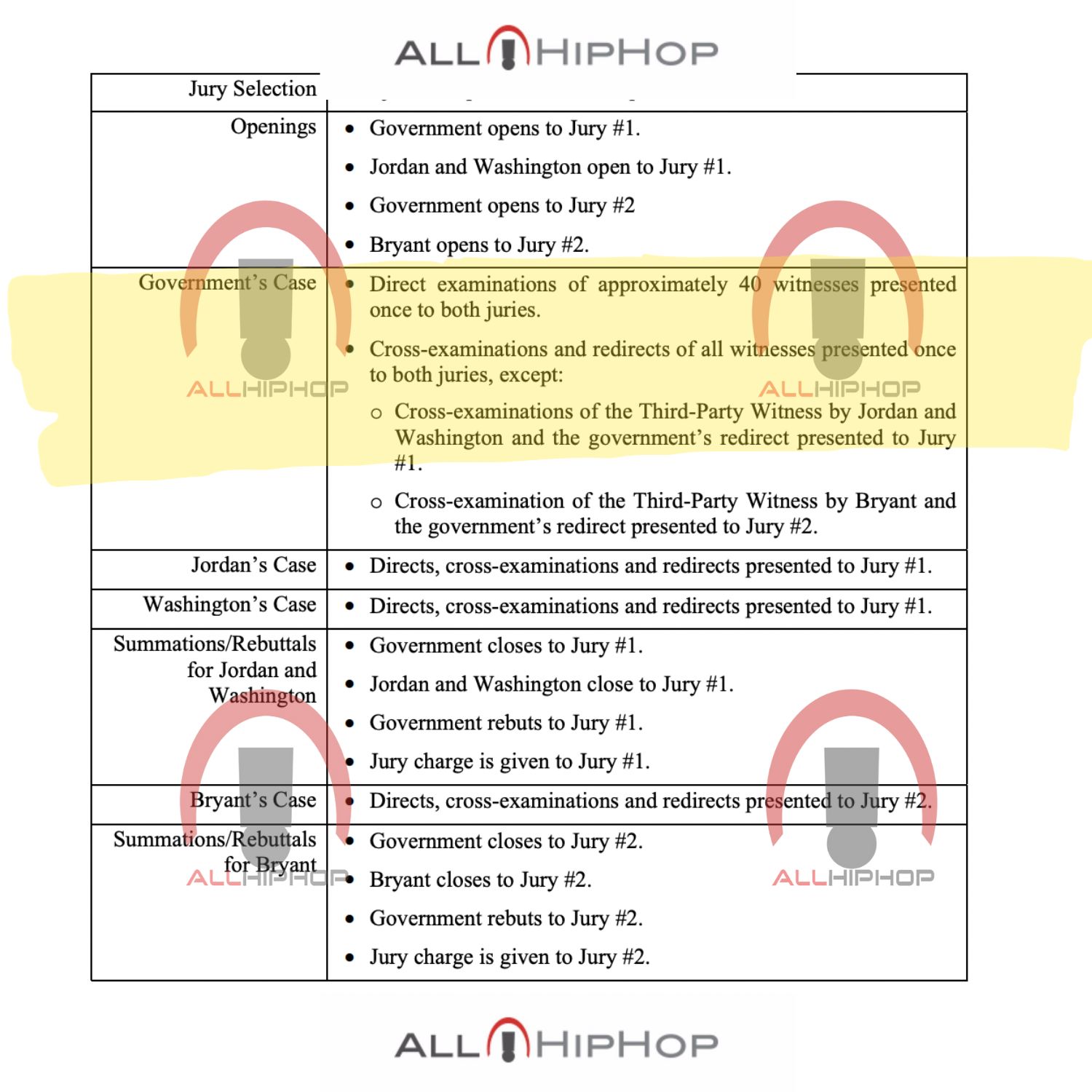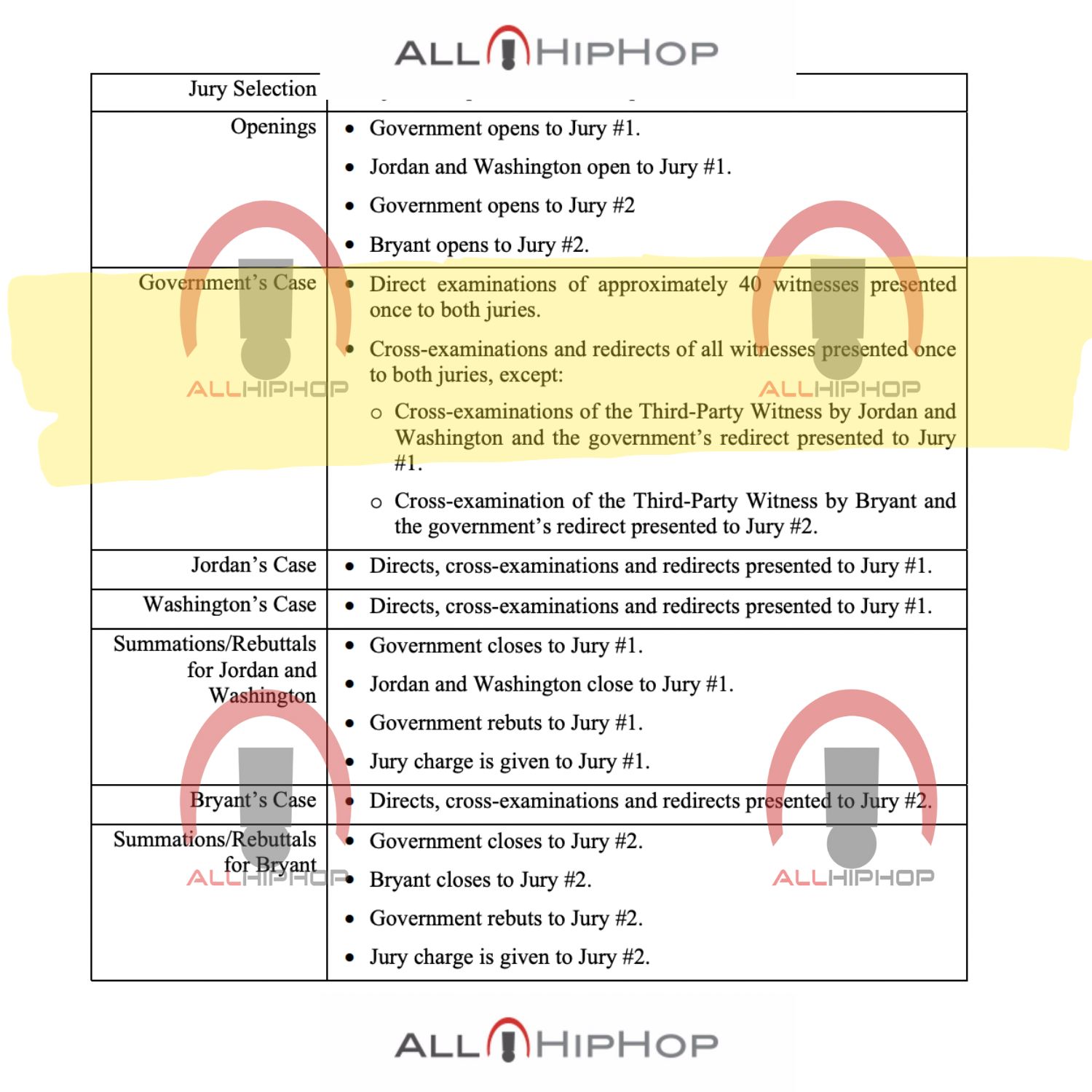 Yet, the government's proposition of a dual-jury trial has potential roadblocks. In fact, such a trial setup can pose logistical challenges. However, the government believes that a two-jury trial is worth the consideration.
The implications of the severance do not alter the government's core case. Their argument remains consistent against each defendant. 
While Jordan and Washington are set for trial on January 29, 2024, Bryant's trial date remains uncertain.
https://hop.clickbank.net/?affiliate=fostjone&vendor=socialsrep